Kozy Shack Sugar Free Rice Pudding- I add one tsp. of cinnamon to this delicious treat and enjoy. It's only 1 weight watcher point & helps curve my appetite for something sweet.
Pickled Vegetables- I didn't think of pickled veggies originally, but when I laid my eyes on these baby corn (not this brand- I bought the Santa Barbara baby corn) , there was no turning back. I also picked up some pickled cauliflower.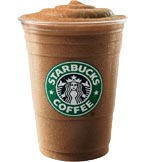 Starbucks Mocha Lite Frappaccino- Holy crap this is yummy & it's only 3 points for a grande! When I'm feeling like having a treat while Justin & I are out shopping, I def. don't feel guilty picking up one of these. I think it actually tastes better then the reg. frap. It tastes a lot more like dark chocolate.
Stretch Island Fruit Leather- Really good & has a variety of flavors (tropical is a bit sour though). It's only 1 point and allows me to munch on something sweet at work when there's donuts everywhere.
I'll update more later once I discover more delicious foods.